KutRite: A major innovator in the polished concrete industry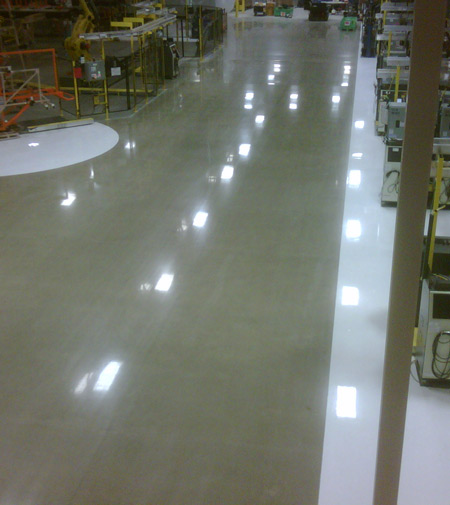 KutRite Manufacturing has played a vital part in the manufacturing of craftsmen's tools in the polished concrete area, which has shown tremendous growth over the past decade. Kut-Rite provides unique, cutting-edge diamond tooling and state-of-the-art surface preparation equipment. As the concrete polishing industry has grown, we have gotten stronger. We strive to offer our customers workable, economical solutions and bank on the expertise of an experienced sales staff. Our sales staff is "real world certified" thanks to years of dealing in the polishing and floor-preparation business. We know our products, know the polished concrete business and are available around the clock to serve our customers in the best fashion.
What is polished concrete?
Concrete is a simple, traditional building product. The polished concrete process is the procedure of converting that traditional product into a very attractive, long-lasting floor finish. A wide spectrum of varying dye color choices make polished concrete a very fashionable residential option. Commercial and industrial polished concrete can be a matter of fashion, as well as function. In the process, concrete goes through a procedure and is honed by using aggressive equipment and diamond tooling. The use of a hardener enables the concrete to chemically alter into a much denser, liquid-resistant surface. With scratches mechanically driven into the surface, each subsequent stop in the diamond abrasive process results in a mirror finish on the surface of the slab. The end result is the option of the owner – and the responsibility to produce that end result is up to a qualified equipment operator. A true polished concrete floor -- done with quality equipment, state-of-the-art diamond tooling and a mechanic with a craftsmen's touch – can last many, many years.
Why should you polish concrete?
That's a good question, and the first answer is cost. Concrete polishing offers a true cost savings. Years of wear and tear can age concrete and make it unattractive and less functional. Concrete polishing can make that same floor attractive and better than new. The total life of a concrete polished floor, with proper maintenance, will outlast other flooring options such as vinyl composition tile (VCT), ceramic tile and hardwood flooring, just to name a few.
The issue of maintenance
Polished concrete is also easy to maintain. However, the most misunderstood aspect of the concrete polishing process is that it is maintenance free. Concrete that has been polished still needs attention. But that attention is much easier and less expensive. With clean water and neutral ph cleaner, a polished concrete floor will last for years. Take note that polished concrete should not be confused with sealed concrete. Polished concrete is a true mechanical process without a film-forming membrane. The polished concrete floor will resist many obstacles that it will encounter. The performance, looks, longevity and cost savings make it a very good option for any flooring need.
Creating a cleaner, safer environment
Polished concrete floors result in a tremendous safety advantage. When polished correctly, concrete flooring becomes dust free. The floor will no longer flake or delaminate, emitting airborne particles into the home, school, retail or industrial setting. Polished concrete helps produce a cleaner, safer air environment. Concrete polished floors are Occupational Safety and Health Administration (OSHA) compliant as well as Leadership in Energy and Environmental Design (LEED) and GREEN certified.