Huntington Grinding Wheel Dressers: Over six decades of experience yields the industry's best instrument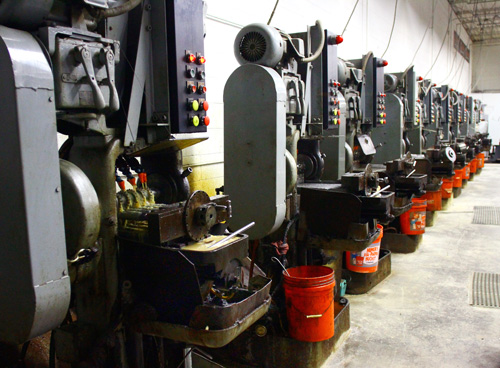 Huntington Grinding Wheel Dressers, widely used in shops and foundries, consist of star-shaped cutters and spacers made of heat-treated high-carbon steel.
When the grinding wheel becomes glazed, loaded or out of shape, it must be dressed and trued. Dressing means sharpening a wheel. Truing means cutting the wheel so that there will be no high spots when the wheel is running. Every new wheel should be trued after mounting.
The Huntington-type is the most effective of four grinding wheel dressers used in industry today. The others are diamond, abrasive stick and abrasive wheel dressers.
Huntington's heat-treated carbon steel cutters spin when applied against a moving grinding wheel to re-true and clean the wheel's surface. Huntington dressers are the only tool that will restore a grinding wheel to its original condition. Abrasive sticks and diamonds will re-true a wheel but will either clog or partially destroy a grinding wheel's original surface grain structure. When properly used, a Huntington Grinding Wheel Dresser will extend the life and dramatically increase the efficiency of a grinding wheel.
Made in America, Kut-Rite Huntington dressers are sturdily built and well balanced. Their handles have a better look and feel. They are powder-coated safety orange, so they're easily found in the shop environment.
Kut-Rite Huntington Grinding Wheel Dressers come in six different sizes, focusing on grinding wheels from 10 inches and under to 16 to 36 inches in diameter.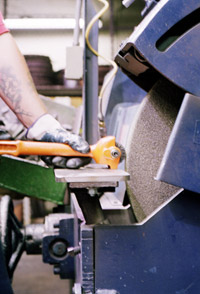 How to use a Huntington Grinding Wheel Dresser
Always protect your eyes when using a grinding wheel dresser. American National Standards Institute (ANSI) certified goggles are recommended for use when dressing a grinding wheel. Kut-Rite also suggests that a particle mask be worn to prevent the inhalation of dust released during the dressing operation.
Always dress your wheel ABOVE the center of the wheel. Failure to do this will result in the cutters digging into the grinding wheel.
Never wedge the feet of the dresser handle behind the tool rest in order to gain leverage. Rest the feet of the dresser handle on top of the tool rest and gently move the tool back and forth. Let the dresser do the work.
Dress your wheel often. Don't wait for your grinding wheel to become lop-sided before you dress it. When a grinding wheel begins to grind material less efficiently, stop grinding for a moment and give your wheel a light dress. For the extra time it takes to do this, you will gain much more time and grinding wheel life.
Always use the proper dresser for the size of the grinding wheel you are dressing.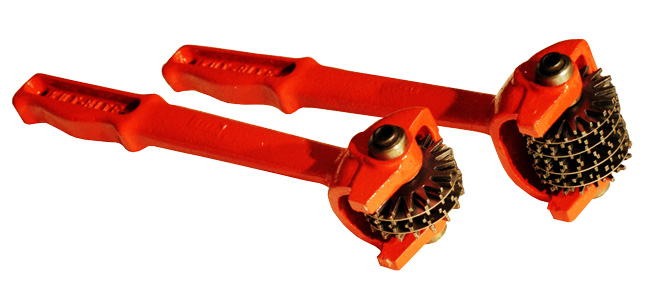 *No. 0 Regular should be used for hand held grinders only.

| Part Number | Dresser No. | Length | Weight | Grinding Wheel Diameter | Grinding Wheel Face | Dressing Face |
| --- | --- | --- | --- | --- | --- | --- |
| HD1000 | No. 0 Regular * | 11.5" | 1.5 lbs. | Up to 10" | 2.0" | .5" |
| HD1001 | No. 0 Hooded | 11.5" | 1.5 lbs. | Up to 10" | 2.0" | .5" |
| HD1002 | No. 1 Hooded | 12.0" | 2.0 lbs. | 10 to 16" | 3.0" | .5" |
| HD1003 | No. 2 Hooded | 15.0" | 5.0 lbs. | 16 to 36" | 4.0" | 1" |
| HD1004 | No. 11 Hooded | 11.75" | 2.0 lbs. | 10 to 16" | 3.5" | 1" |
| HD1005 | No. 22 Hooded | 15.0" | 5.75 lbs. | 16 to 36" | 4.0" | 2" |