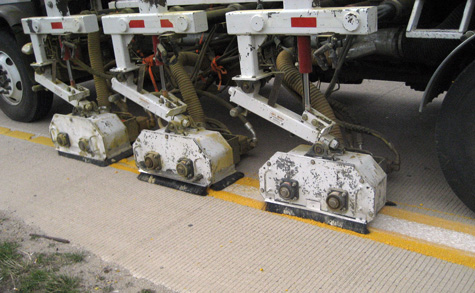 Truck Mounted Scarifier Drums
The unique, three-piece construction of the KutRite Truck Mounted Drum allows for the contractor to change the center hub on accommodate multiple removal widths.
Like the rest of the KutRite drum and shaft line of products, the Truck Mount Scarifier Drum is designed to be long lasting yet affordable. In fact, KutRite Truck Mounted Drums are the most affordable per foot in the industry. Because of the modular design, our drums allow you to only replace the items that wear.
KutRite carries a continuous inventory for most Truck Mounted Drums in the 7/8-inch, 25mm or one-inch rod sizes. Special packages are always available.
Drum Sizes

| Part # | Description | Drum Width |
| --- | --- | --- |
| 8.000.0001 | MRL Drum w/ 25mm Shafts | 9.5" |
| 5.550.0000 | MRL Drum w/ 25mm Shafts | 8.5" |
| 9.000.0001 | MRL Drum w/ 7/8" Shafts | 9.5" |
| 9.000.0000 | MRL Drum w/ 7/8" Shafts | 8.5" |
| 7.500.0001 | MRL Drum w/ 1" Shafts | 9.5" |
| 6.500.0000 | MRL Drum w/ 1" Shafts | 8.5" |
| 6.500.0008 | MRL Center Tube | |
| 6.500.0004 | MRL Drum Spacer | |
| 6.500.0003 | MRL Drum End Plate | |
| 6.500.0002 | MRL Drum Retaining Ring | |
| 4.000.0001 | Arrow Drum w/ 1" Shafts | 8" |
| 6.000.000 | Arrow Drum w/ 7/8" Shafts | 8" |
| 5.000.00001 | Arrow Center Tube | |
| 5.000.0000 | Arrow End Plate | |
| 6.000.0001.0 | Arrow Drum Retaining Ring | |
Spacer Sizes

| Part # | Description | ODxIDxThickness |
| --- | --- | --- |
| 6000 | Small Spacer | .948 x .569 x .092 |
| 6001 | Medium Spacer | 1.25 x .633 x .089 |
| 6002 | Large Spacer | 1.51 x .811 x.122 |
| 6003 | XL Spacer | 1.51 x 1.01 x .122 |