Huntington Wheel Dressers Replacement Parts
Kut-Rite offers a complete line of replacement parts for Huntington Grinding Wheel Dressers, which are widely used in shops and foundries. Huntington dressers are the only tool that will restore a grinding wheel to its original condition. When properly used, a Huntington Grinding Wheel Dresser will extend the life and dramatically increase the efficiency of a grinding wheel.
Made in America, Kut-Rite Huntington dressers are sturdily built and well balanced. Their handles have a better look and feel. They are powder-coated safety orange, so they're easily found in the shop environment.
Kut-Rite offers replacement screws, ears, washers, bushings and pins for all of its Huntington Dressers.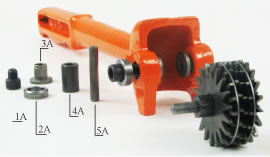 | Part # | Ref. # | Description | Need | Dresser No. |
| --- | --- | --- | --- | --- |
| HP4010 | 1A | Dresser Screw | 2 | No. 2, No. 22 |
| HP4011 | 2A | Counter Bore Washer | 2 | No. 2, No. 22 |
| HP4012 | 3A | Dresser Bushing | 1 | No. 2 |
| HP4019 | 3A | Dresser Bushing | 1 | No. 22 |
| HP4018 | 4A | Cutter Bushing, 19/32" | 1 | No. 2 |
| HP4013 | 4A | Cutter Bushing, 5/8" | 1 | No. 2 |
| HP4021 | 4A | Cutter Bushing, 19/32" | 1 | No. 22 |
| HP4017 | 4A | Cutter Bushing, 5/8" | 1 | No. 22 |
| HP4014 | 5A | Dresser Pin | 1 | No. 2 |
| HP4015 | 5A | Dresser Pin | 1 | No. 22 |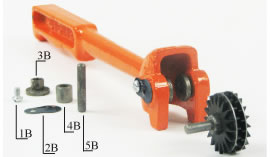 | Part # | Ref. # | Description | Need | Dresser No. |
| --- | --- | --- | --- | --- |
| HP4020 | 1B | Dresser Screw | 2 | No. 1, No. 11 |
| HP4002 | 2B | Counter Bore Washer | 2 | No. 1, No. 11 |
| HP4007 | 3B | Dresser Bushing | 2 | No. 1, No, 11 |
| HP4008 | 4B | Cutter Bushing | 1 | No. 1 |
| HP4005 | 4B | Cutter Bushing | 1 | No. 11 |
| HP4009 | 5B | Dresser Pin | 1 | No. 1 |
| HP4006 | 5B | Dresser Pin | 1 | No. 11 |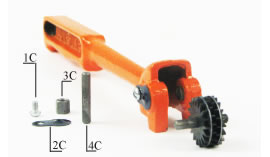 | Part # | Ref. # | Description | Need | Dresser No. |
| --- | --- | --- | --- | --- |
| HP4020 | 1C | Dresser Screw | 2 | No. 0 |
| HP4002 | 2C | Counter Bore Washer | 2 | No. 0 |
| HP4003 | 3C | Dresser Bushing | 1 | No. 0 |
| HP4004 | 4C | Dresser Pin | 1 | No. 0 |