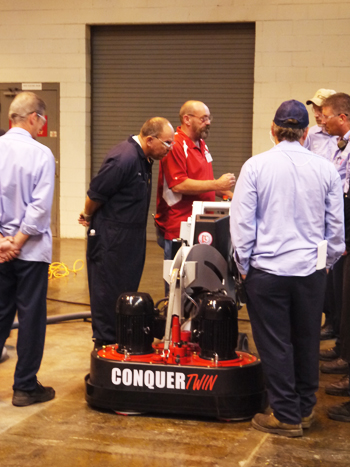 Class Detail
Kut-Rite is proud to present "KRP Basic Training". This course was written specifically for those who have limited knowledge of concrete and the art of polishing and/or preparing it for something beautiful to bond to it. This course is not designed to make experts out of novices but to provide the basic entry level knowledge that will help you make a good business decision.
Many concepts presented in this course may well be contested by the equipment manufacturers and/or other training organizations. However, the knowledge presented is based on the expertise gained through many years of experience.
Points of Knowledge-
Concrete is a construction material composed of cement, aggregate and water, and chemical admixtures. We will discuss the basics of finishing concrete and explore the relevant effect.
Expectation Management requires knowledge. We will explore the realistic expectations of a variety of typical existing concrete finishes. We will arm you with the basic knowledge required to predict the outcome.
The Process of Polishing Concrete is somewhat subjective and there are many different processes that are basic iterations of a simple progression of scratches. The progression of scratches (refinement) creates the light reflection.
Concrete Surface Preparation for the purpose of installing one of many topical coatings such as epoxy, polyaspartic, urethane etc… is equally as important if you are planning to contract floors. There are many existing floors that are not ideal for the polishing process.
Diamond Abrasives are used exclusively to create the progression of scratches. We will explore the different types, bonds and shapes of these abrasives and provide basic understanding of when and why to use them.
Equipment Selection is typically presented without bias in many training programs. The Kut-Rite KRP training program is designed to present the facts in general but with a heavy bias towards Kut-Rite products and equipment.
KutRite Equipment is very unique and designed for ease of use. We will present the benefits and limitations and make a case for the Kut-Rite product as the leading current product for various reasons.